Parents are the primary spiritual influence in the life of their child so we want to come alongside you as you lead your kid to Jesus. This is a space for you to see the Scripture reference and Bible story from the weekend, along with provided activities that foster conversations about Jesus at home.
Lesson
No matter their age, God can show anyone His love and His power. Toddlers will learn about four more kids from the Bible: Daniel, Miriam, Josiah, and a boy who gives his lunch to Jesus. These kids all had awesome opportunity to see God do something amazing! Miriam and the boy got to see God or His son, Jesus, move in a mighty way. Daniel and Josiah listened to God's teaching and saw the fruit that came from obeying. Through His love and power, God gives us the opportunity to be a part of leading others to Him!
July 1 and 2
Daniel 1
Young Daniel and his friends eat only vegetables to honor God and show His power.
July 7 and 8
Exodus 1:22-2:10
Young Miriam watches her baby brother after their mom puts him in a basket and hides him along the river.
July 15 and 16
2 Chronicles 34
Josiah becomes king at eight years old and helps people learn about God's love.
July 22 and 23
John 6:1-13
Jesus uses a young boy's lunch to perform a miracle and feed over 5,000 people.
July 29 and 30
1 Timothy 4:12
No matter how old or young we are, we can go tell others that God loves them and Jesus is their friend forever!
Activities
Bath Time: Find some waterproof blocks. Encourage your child to build a statue along the side of the bathtub and knock the blocks into the water! As they play, talk about Josiah, who became king at 8 years old. Josiah loved God and knocked down the statues the people built because the people loved the statues more than they loved God. Josiah was a good king because he loved and followed God!
Play Time: Grab a doll or an action figure and hold it like it's a baby. Talk about how special the baby is and how much you love it! Have fun playing together pretending to take care of the baby. Find a bowl or a basket and lay the baby in it. Talk with your child about Miriam and her mom. To keep her baby safe, Miriam's mom put him in a basket so he would float on the river. Then, Miriam got to see God do something amazing! The king's daughter came and rescued the baby!
UPCOMING EVENTS
---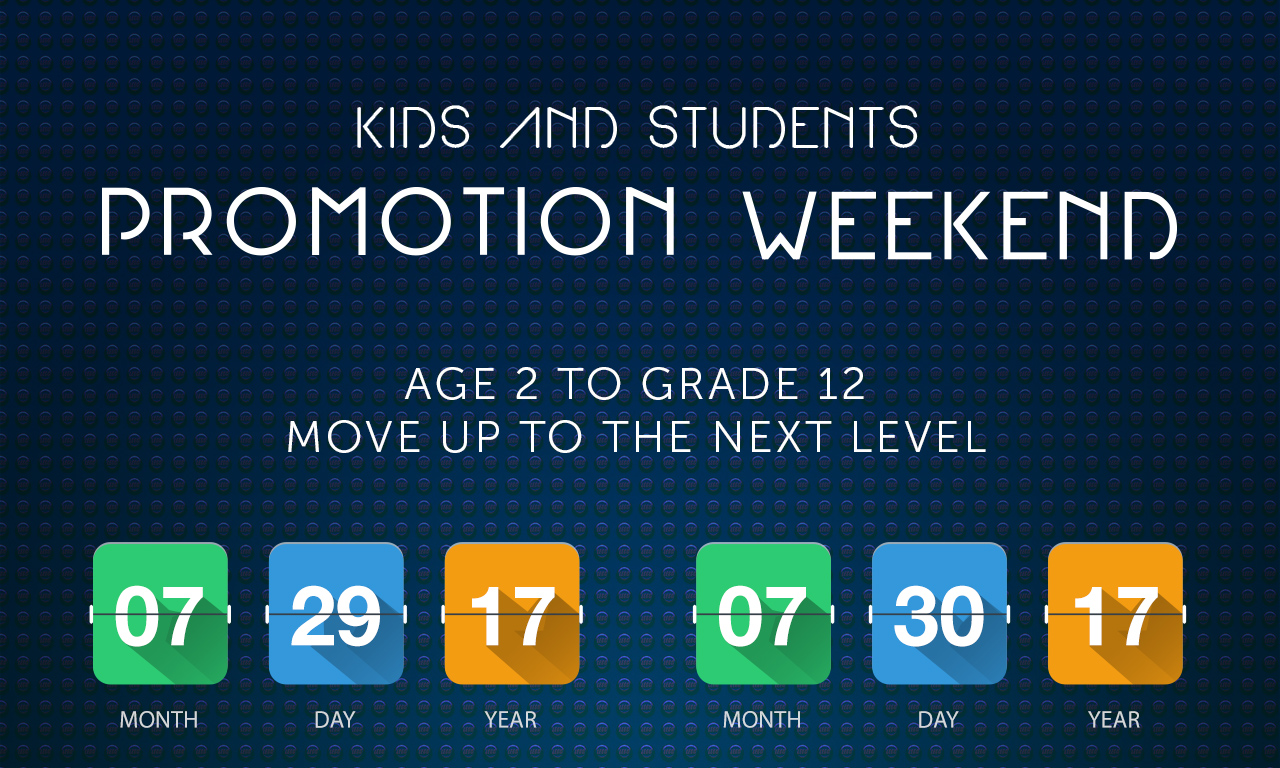 Promotion Weekend
Weekend Services
July 29/30