Parents are the primary spiritual influence in the life of their child so we want to come alongside you as you lead your kid to Jesus. This is a space for you to see the Scripture reference and Bible story from the weekend, along with provided activities that foster conversations about Jesus at home.
Bible Verse
"So Jesus grew tall and wise and was loved by God and man," Luke 2:52
Lesson
No matter their age, God can show anyone His love and His power. Preschoolers will learn about four more kids from the Bible: Daniel, Miriam, Josiah, and a boy who gives his lunch to Jesus. These kids all had awesome opportunity to see God do something amazing! Miriam and the boy got to see God or His son, Jesus, move in a mighty way. Daniel and Josiah listened to God's teaching and saw the fruit that came from obeying. Through His love and power, God gives us the opportunity to be a part of leading others to Him!
July 1 and 2
Daniel 1
Young Daniel and his friends eat only vegetables to honor God and show His power.
Ask your child: What did Daniel and his friends eat? (Vegetables and water.)
Play together: Play a game of pretend where your child has their own restaurant and you are there to eat dinner! Have fun pretending to cook and eat different foods together. After you play, talk about Daniel from the Bible. God told Daniel not to eat the food the king gave him. So, Daniel ate only vegetables for 10 days! God showed his power by making Daniel strong only eating vegetables!
July 7 and 8
Exodus 1:22-2:10
Young Miriam watches her baby brother after their mom puts him in a basket and hides him along the river.
Ask your child: Who is powerful? (God!)
Play together: Bring some waterproof toys into the bathtub. Have fun playing with them and seeing which ones float! Talk with your child about Miriam and her mom. To keep her baby safe, Miriam's mom put him in a basket so he would float on the river. Then, Miriam got to see God do something amazing! The king's daughter came and rescued the baby!
July 15 and 16
2 Chronicles 34
Josiah becomes king at eight years old and helps people learn about God's love.
Ask your child: Why was Josiah a good king? (He loved and followed God.)
Create together: Give everyone a piece of paper and something to draw with. Ask everyone to draw what they would do if they were king or queen. As you draw together, talk about Josiah, a kid who was a king at just 8 years old. Josiah was a good king because he loved God and followed what God asked him!
July 22 and 23
John 6:1-13
Jesus uses a young boy's lunch to perform a miracle and feed over 5,000 people.
Ask your child: What was in the boy's lunch? (Five loaves of bread and two fish.)
Eat together: Get a box of Goldfish crackers and a bag of pretzels. Give everyone two Goldfish and five pretzels. Explain that there was a big crowd of over 5,000 people who were very hungry! A little boy gave Jesus his lunch of just two fish and five loaves of bread. Jesus used just that small lunch to perform a miracle and feed over 5,000 people! Jesus performed a miracle to show everyone that he is God's son!
July 29 and 30
1 Timothy 4:12
No matter how old or young we are, we can go tell others that God loves them and Jesus is their friend forever!
Ask your child: Who is my friend forever? (Jesus is my friend forever!)
Pray together: Snuggle up with your child and pray this prayer: "Dear God, Thank you for (child's name). I am so thankful (he/she) is a special part of our family. God, you have a plan for (child's name). Guide their thoughts and actions so that (he/she) follows that plan. I pray that (child's name) never forget how much You and Your son, Jesus, love (him/her). In Jesus' name, Amen."
UPCOMING EVENTS
---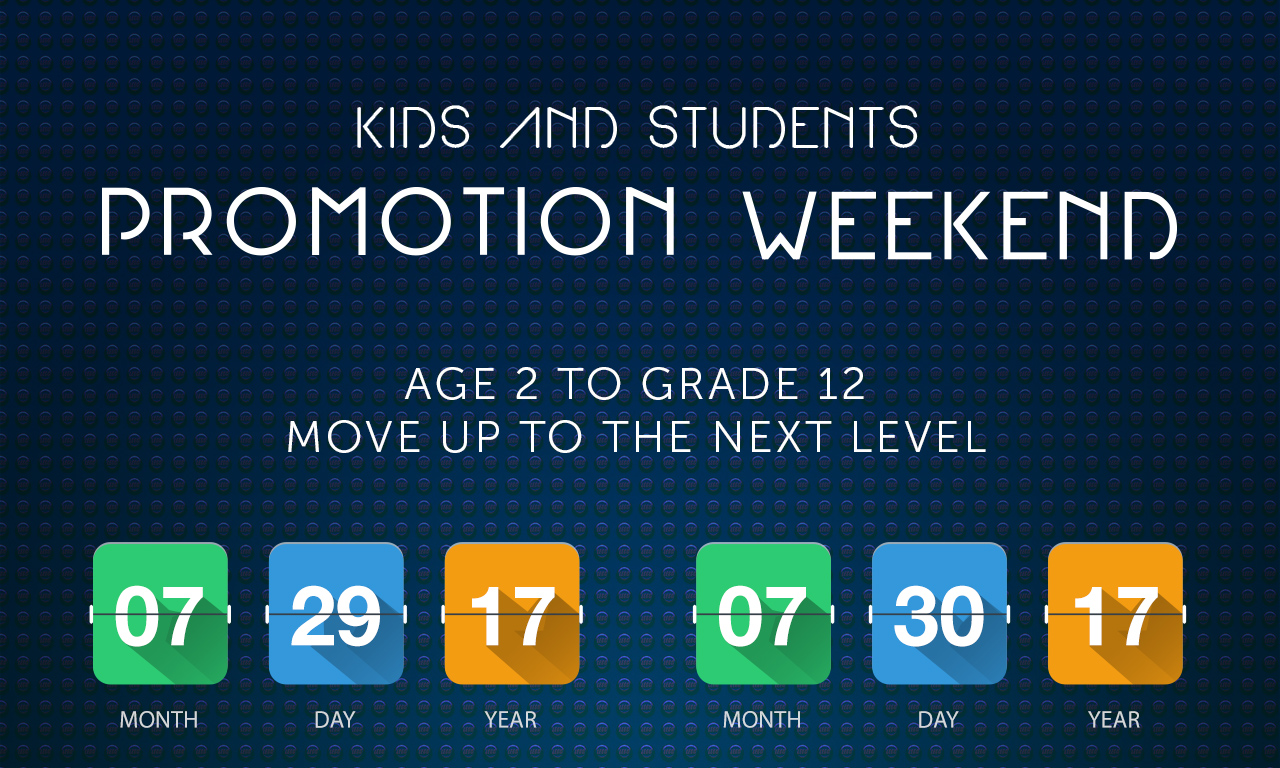 Promotion Weekend
Weekend Services
July 29/30